Ukulele love
Ukulele love
Hi guys, so today I'm going to share with you my joy of playing my newly purchased Ukulele! I had dabbled at the Piano as a kid, but never really felt any passion, not I'm not sure if that is because I wasn't very good, or that I was a kid that wanted to do anything other than sit and play what I saw as an oldie persons instrument. A friend of mine started playing the Ukelele recently and was raving about how much fun it was, I had decided to give it a go I found a second hand one at http://www.australia.for-sale.com/ukulele and thats when my love for my Uke all began.
My Ukulele
So my mate Belinda and I and went along to one of her Uke nights, where a load of grown ups sit around in a pub, drinking and play fun tunes what look like tiny guitars. What's not to like, also it's impossible to be pretentious on a Ukulele, so everyone just has fun, no matter what your skills. There are also loads of festivals and Ukulele groups that are all very inclusive and fun. Keep an eye on Things to do in Melbourne
There are loads of reasons why learning to play an instrument is good for you, so here are my top reasons why you should learn to play the Uke:
1.
Ukuleles are cheap
Now don't get me wrong, there is a large variety of Ukuleles out there with large price differences, but you can get a really good ukulele cheap. This is really important when starting out with an instrument. If you're going to start playing say, the Saxophone, Piano or Violin, they all take a long time to get good and all sound crap if you're trying to learn on an instrument that isn't quality and quality costs a lot.
2.
It will make you feel better
Studies show that playing an instrument helps by lowering your heart rate and blood pressure, which in turn lowers the stress hormones, in turn making you feel relaxed. While just listening to music also helps, learning to play an instrument brings with it a comforting routine of daily practice that helps in keeping the stress hormones away. Plus an excuse to to go the pub every week to practice will definitely make your feel better.
3. It will improve your social life
Music helps you connect. Learning the Ukulele will enlarge your social circle as you will start to discover just how many other people love to play the Uke! There are loads of Uke nights at pubs around Melbourne, and keep your eye's peeled for festivals and the likes. You could even discover the joy of hosting music nights and have people bring round instruments and all have a sing along. Trust me, you will get to meet more people when you play the Ukelele.
Playing the Uke with people at the pub
4. Ukulele will give you confidence
Once you are aware that you are able to do something well, and that is the beauty of the Uke, is it's easy to play, you naturally become more confident of your skills. When you play as part of a big group, like Uke nights at the pub, it's easy to hide any mistakes, and you can follow the group so you will learn quicker (booze will also help).
5. You'll probably find you become more creative
Stuck in everyday routine lives, many of us lose touch with our creative side. Learning to play the ukulele will give you a sense of ability to try new things and can foster your lost creativity. Since music education plays on your mental, emotional and cognitive abilities, the brain is stimulated to think out of the ordinary, which results in improved creativity.
6. It will make you smarter and stop you going mad
Worried about dementia? Music and memory go hand in hand. Learning to play a musical instrument makes you use both parts of your brain and this in turn boosts memory power. You will start to remember why you walked into the bedroom, hell, it might even help you remember why you're standing staring blankly at the pantry cupboard! But the downside is the improved social life might make your brain hurt more on a sunday morning though.
7. It's fun!
Lastly, learning to play a musical instrument is fun, but being that the Uke is so accessible it makes it even more fun.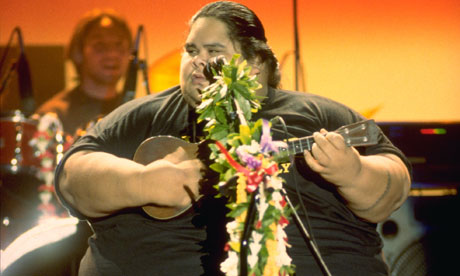 Israel Kamakawiwo plays probably the best song ever played on a Ukulele. "Somewhere over the rainbow".
So if you're now considering taking the plunge to buy your first Ukulele, then you might be wondering where to next. Well Youtube is great for lessons, there is so many options for ways to learn, you could start from the basics or simply type in your favourite song then write "Ukulele lesson", and there is probably a tutorial on it. Print yourself out the chords and you'll be away in no time. Hey, who knows, you might get so good you start your own online tutorials, teaching how to play the Uke, I've also written a blog on that!